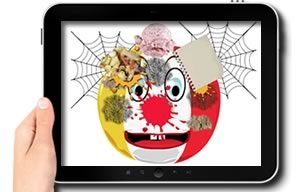 NEW: Ballyland Stay Still, Squeaky!
For those of you who wonder if this app is the same as the Stay Still, Squeaky iBook: The story is the same as the story from the iBook, which is no longer available. But on top of the story, the app includes a brand new Bonus game, which you can access after having listened to Squeaky's story at least once. In this game, you need to listen carefully and drag your finger along the screen to specific spots of dirt, and 'collect' them in the correct order (touch and hold). Then a mini story plays out as a reward and you also score points. Please note that the grid pictured on the screen in the game is only for visual support, and is not relevant to the gameplay for children who are blind. This as opposed to Ballyland Sound Memory, where the game revolves around an accessible digital grid with rows and columns.
A Story that responds to touch with audio feedback, plus a Game that helps to develop finger drag skills and build spatial awareness on the iPad.
To register for updates and browse the website please click on the link below: